New notebooks mean I am SERIOUS about getting it together! BTW This notebook is great; 1/3 ruled, 1/3 gridded, 1/3 blank, 100% AWESOME!
Wow! September 22, one hundred days until the end of the year! Kelsey from
Kelsey Sews
is heading up the
100 Day Hustle
to encourage us to hustle through our to-do lists and start 2013 with a blank slate. Looking over my goals that I posted at the beginning of this year, I cannot believe how out of control my to-do lists have become! Luckily, I have been a little more productive at sewing than I have been at blogging, but there is still a LOT of work to do. My list
(including the "not counting on it " list)
comes out to a project a week, which doesn't sound too overwhelming.
My To-Do List
(
in order of priority)
Christmas Stockings x3 (Joy, Cherry Christmas & Winterkist)
Quilt Baby Quilt (Children at Play) for Husband's Co-worker
Start & Finish Baby Quilt (Wee Folks) for Friend
"Two Left Feet" Quilt (Echo) for Brother *Need help, see below!
Polaroid Quilt for Other Brother (Random, this will involve Llamas)
Quilt for Sister (No clue)
Love Letters Quilt (Etchings)
---
TWO LEFT FEET QUILT DECISIONS!
This
is the quilt. I can't decide what background fabric to use! I originally bought the black, but I am leaning towards flax now...what would you choose?
---
Would be Nice, but Not Counting on It!
• Christmas Table Runner • Quilt Patchwork Prism • Quilt Xs and Os • Quilt Sew.Happy.Quilt • Finish Super Mario Quilt Top • Finish Medallion Quilt Top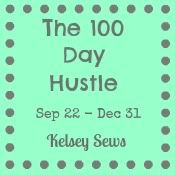 Head on over to Kelsey Sews, link up your goals for the last 100 days of 2012, then get to work! The linky party will be open from September 22nd to September 25th!