I'm still plugging away at pinwheels for the
X's and O's Quilt
and borders for the
Charming Flowers quilt
, but I have completed a couple of other things in the meantime. As an aside, I am so proud of myself for not starting any major projects while I got a few in progress. But I am also disappointed in myself, because I have still been buying fabric for FUTURE major projects. Oh well, baby steps!
I FINALLY finished the Diamond Lace Shawl from
Learn New Stitches on Circle Looms
by Ann Bipes. The shawl is 19" x 61" and so, so soft! I have no idea what I would actually wear this with and I don't exactly live in a climate where cover-ups are ever really necessary, but I do enjoy looking at it! It's lying on my couch looking all pretty at the moment. I am absolutely in love with this yarn (Noro Kogarashi #9). I spent part of the morning on
Ravelry
, looking at all the projects it shows up in.
The Diamond Lace Shawl is labeled as experienced in the book, but I had an okay time with it once I got going. The hardest part was making sure that I was working with the correct part of the diamond. I had to redo a couple of rows because I skipped a stitch and was ending up with a Square Lace shawl! I also had to start over after about 20 rows the first time I attempted the pattern, because I didn't read the instructions correctly (WHAT, that's never happened before ;)!) and missed that the difference between the alternating rows was the location of one knit stitch! Overall, fun project! I feel almost ready to work on a blanket!
---
How fun are these no-tie bow ties!? My antiestablishmentarian husband had to wear a tie for a work picture and of course wanted to wear the most ridiculous tie he could get away with on picture day! I found the Martha Stewart tutorial, but it required more of a time and fabric commitment than I was willing to commit to for a joke. This
DIY No-Tie Bow Tie
tutorial turned out to be perfect! I used Amy Butler Lotus Dots in red for his because big 'ol polka dots on bow ties amuse me to no end. I ended up making one for a co-worker too and that one is in Amy Butler Lotus Dots Slate.
---
I'm linking this to
Try New Things Thursday
, because the Diamond Lace stitch is the first non-beginner stitch I have done on the loom. It was also my first experience with blocking. It was way easier than I expected and my first knitting loom project could have definitely used some shaping!!!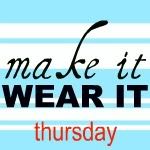 Copyright © From Pixels to Patchwork 2012. All rights reserved.