*crossing fingers that Comcast connection stays up long enough for me to post this* I've had the worst internet connection the past few days!
Christmas Stockings | 11x17" | From L to R: Joy, Winterkist & Cherry Christmas.
It isn't even Halloween yet, but I have Christmas stockings for my family done! I love the holidays and the idea of cold weather :). I am so excited that the high is supposed to be 66
°
F tomorrow. My birthday wish came true!
These stockings ended up taking me *so* much less time and money than last year.
I used the Prudent Baby Stocking Template & the lining and cuff tutorial at Cluck Cluck Sew. I always set my printer at "Fit to Page" on the stocking template, for maximum candy-stuffing potential. The stocking shape curves slightly outward towards the top, so next time I make these I am going to straighten the template out for easier cuff fitting.
I used 27 charm squares for each stocking. You could get away with 25 charm squares, since there is a portion that goes unused due to the shape of the stocking. For completely irrational reasons the empty space annoyed me last time I made these, so I went ahead and made a full rectangle.
Each stocking consists of two 12.5"x18.5"panels and each panel consists of 6-2.5" squares x 9-2.5" squares.
I have a tendency to overdo it on certain colors (red is one of them!), so I divided the 2.5" square for each panel beforehand, so I wouldn't end up with a majority red on the front side and no red on the back!
I started out by drawing my quilting lines with a marker, but my lines were actually much straighter when I lined up the square corners with the sewing machine foot and let the machine do its thing. I used light colored thread for quilting, since I wanted the quilting to show.
I used leftover Kona Pear (Winterkist) and Kona Red (Joy & Cherry Christmas) for the lining/hanger.
Ooh, I had a tiny adventure while gathering supplies for these stockings. I went to a Hobby Lobby in the next community, because the Hobby Lobby next to my house was out of iron-on Ss. As I was at an intersection headed back home from the second Hobby Lobby with my Ss (yay!), all these sheriff cars start lining up in the turn lane next to me to cut in. Light turns green, they all race around me to surround the car front of me. THEN, they jump out of their cars with guns drawn and everything! I felt like a cast extra on The Shield. Everything was under control, but I was so glad to get out of there! I think I am going to do all my craft shopping online from now on...and I'm going to stop complaining about turning 30 tomorrow LOL!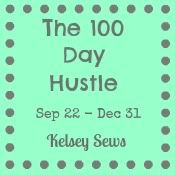 Checklist
• Three Christmas Stockings
• Swoon Quilt • Bird Quilt • Children at Play Quilt • Wee Folks Quilt • Two Left Feet Quilt • Polaroid Quilt • Sister Quilt • Love Letters Quilt
(Not Urgent List)
• Christmas Table Runner • Quilt Patchwork Prism • Quilt Xs and Os
• Quilt Sew.Happy.Quilt
• Finish Super Mario Quilt Top • Finish Medallion Quilt Top
Last Year's stockings, photo taken in the bathroom :D
Linking Up with:
@ with Lynette at
What a Hoot
&
Finish it Up Friday
at Crazy Mom Quilts