Sew. Happy. Quilt. | Simon + Kabuki Juicy Blossoms | 51" x 51"
This is a fun quilt for me to look back on because it was my first quilt project of the 2012, the first "real" quilt I started and the quilt that started my addiction to QALs. Who knew how big the obsession would become? This is the longest I've kept up with any hobby! :D
I finished this quilt top way back in March, but was at a total loss about how to quilt it. It languished on my shelf for months, until this week I told myself "JUST DO IT!" I decided to make it easy on myself and quilt around the X in the center. You can see a little better in the backing picture.
I used a $5 Twin Sheet from Walmart for the backing. That probably doesn't bode too well for its longevity, but this quilt is just staying in my office so I am not too concerned. I like the feel of it!
I used the cute little star print to bind it. I love how the star prints in this line add a bit of sparkle!
If you are interested in doing this quilt yourself, the tutorials for each block are over at
Sew Happy Geek.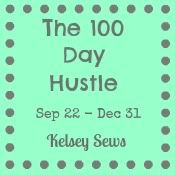 Checklist
• Three Christmas Stockings
(Sewing done, just have some finishing touches to do)
• Swoon Quilt • Bird Quilt • Children at Play Quilt • Wee Folks Quilt • Two Left Feet Quilt • Polaroid Quilt • Sister Quilt • Love Letters Quilt
• Christmas Table Runner • Quilt Patchwork Prism • Quilt Xs and Os
• Quilt Sew.Happy.Quilt
• Finish Super Mario Quilt Top • Finish Medallion Quilt Top
Linking Up with: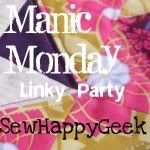 @
Echinops & Aster
&
Finish it Up Friday
at Crazy Mom Quilts