Warning: Text heavy. I was alone in a hotel room for four days LOL!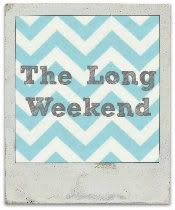 Welcome to my stop on
The Long Weekend Blog Hop
! I finished my bag last week and I have been *so* antsy to share it with you all.
I used the Peltex method. I wanted to address this first, because my biggest worry was that my sewing machine couldn't handle sewing through all that Peltex. You actually cut the exterior Peltex down by a 1/2" before you start sewing. From looking at the pattern updates, I don't think the step was in the original pattern
(the one with the red Amy Butler logo)
. So have no fear! I had no broken needles. I only had to sew through Peltex for the handles, pocket top-stitching and the bottom insert.
Fabric Choices
Exterior:
Echino Madrigal Oxblood
| Handles/Interior Pocket Lining/Purse Feet:
Essex Linen in Lime
|
Interior Lining/Exterior Pocket Lining:
Simon + Kabuki In the Meadow Dotted Argyle in Green
| Binding for Interior Pockets:
Kona Bright Pink |
Zippers:
YKK Non-Separating Zipper - 30" - Neon Green
(exterior, warning: shipping is crazy expensive at that link)
& Coats & Clark 7" Zipper in Red Rose
(interior)
I wanted to focus on the bag construction, since most of the techniques in the pattern were completely new to me. For this reason, I went with a single fabric on the exterior. I knew right away I would use Echino fabric. The weight and the large prints work real well for this particular bag and its large surface areas.
I wanted green to be the accent, since it was the brightest color on my main fabric. I was obsessed with the idea of having an argyle or plaid print as lining, so I was thrilled when I found an argyle print with the same green and pink as my exterior fabric at
QuiltWorks
in Cypress, TX. I attempted to use it for the handles and piping, but it looked almost white when put directly against the dark brown Echino fabric. I decided to just go with Essex Linen in lime for the piping and handles.
General Construction:
Read the directions carefully & take it step-by-step. It gets overwhelming if you think about the whole!
I definitely recommend spreading the construction over several days. My experience was mostly stress free, but my brain did feel like complete mush after each step! Here is how I broke it down:
Day 1 Cutting | Day 2 Piping & Exterior Panel # 1 | Day 3 Exterior Panel # 2 & Top Panel | Day 4 Sewing Exterior Panel #1 to Top Panel | Day 5 Sewing Exterior Panel # 2 to Top Panel | (Took a few days off Between Exterior and Interior) | Day 6 Sewing all Extra Pockets to the Interior (optional) | Day 7 Sew Lining Together | Day 8 Sewing Lining to Bag & Zipper Side 1 | Day 9 Sewing Lining to Zipper Side 2
I didn't use pins, except for when marking the centers of my pieces. I used Clover Wonder Clips.
Use your hand-wheel for the thicker parts and definitely get a pack of denim needles!
Cutting
I loved the look of the bags where the pattern looked continuous from the large pocket onto the main body of the bag, so I was careful about my placement. I bought extra fabric because of this. The front and back, as well as the left and right pockets, are identical.
The pattern instructs you to make a ton of marks on the Peltex to cut help cut it down 1/2". That isn't really necessary. I just drew a line a 1/2" in from each side, only drawing the extra lines to mark the cut-line for the rounded corners.
Be careful with the main panel pattern. There is the natural fold of the paper and then a dotted line about a 1/2" above that fold (the fold for cutting the large pocket). Several times I cut interfacing using the natural fold of the paper, because I wasn't paying attention.
Piping
I had never sewn piping before, but now I want to add it to EVERYTHING. Super easy!
I used a 5mm Piping Foot and it made making piping a snap. I used it on other parts on the bag too, but not as much as I thought I would because of thickness issues.
The whole time I was sewing the rest of the bag, I wished I had cut my bias strip a little wider then the instructions stated. I hardly ever attained a 1/2" seam when I was sewing the areas with piping. 1/8"-1/4" wider would have been a huge help!
Handles
Many people used cotton webbing for the handles and I think this is a great idea. I made the Peltex handles and I don't like the look of the handles when they bend a little. They have the same look as bent cardboard
I cut my handle fabric at 5" x 57". That is 9" of added length (as suggested by Debbie at A Quilter's Table) and makes my finished handle around 2" wide.You'll need extra Peltex if you widen the handles, because there is only room for exact mesaurements on the Peltex cutting steps. The Peltex is cut about 1/8" smaller than the width of your handle.
Like others, I reinforced the handles with X's. I made a 2" X at 9" to 7" and a 2" X at 13" to the 11" line. (measurements from the bottom of the bag)
Because of the widened handle, I changed the placement a little. My handles are about 4" from the bottom-left and bottom-right side. There is about 5.5" of space between them.
Main Panel Construction
I used the piping foot to attach the piping to the main panels. I had to go over a few spots more than once, but for the most part it gave me a nice, tight fit.
There was some difficulty sewing where the piping overlapped. I used the handwheel on my sewing machine to sew through that part.
Go slow and ease around the corners. It really does reduce the bunching.
The zipper is actually enclosed, the fabric just wasn't laying flat after being opened and closed all day!
Top Panel Construction
I managed to accidently mark on my zipper when I was marking my interfacing. It wouldn't have shown anyway, but hairspray got the marks out!
I had never sewn a zipper on this way before. The instructions were very straight forward. Just watch the seam! It is not a 1/2" on this step.
When topstitching the zipper to the panels, I ended up sewing from the zipper side. It came out much better. I hand-basted the zipper to the bag, rather than pinning it.
Sewing Main Panel to Top Pane
l
It is important to mark & pin the centers of the panels, so everything lines up correctly in the end. My pockets are a little uneven by 1/2"-1", because things shifted a bit when I was sewing.
I sewed twice around each panel. I sewed around once with my zipper foot to get everything squished down and then again with my piping foot to get a tight fit around the cording. It would have been better to just use the zipper foot, but mine has a big butt and I didn't have the stitch width I needed to get close enough. I had to feed it at an angle to get it as close as I did. The piping foot did a better job around the straight edges & the zipper foot around the rounded corners.
It wasn't terribly difficult to sew through all the layers, but it was incredibly awkward to manuever around the machine (especially when attaching the second panel). There were a few difficult sewing parts for me: around the handles and the corners. I used my hand-wheel to get over the handles. I just had to go slow and be patient around the corners.
The Bottom Panel
I used my walking foot to sew the Peltex panels together.
This is where I veered off the pattern a bit. I can't endorse this method, but it did hold through a five day trip. The interfacing pocket that the Peltex panels were supposed to fit in completely tore while I was wrestling the panels through the machine and I wasn't exactly sure how I was going to attach it at that point anyway (THICK!). I ended up using extra interfacing to trap the Peltex panels in as much as I could.
Since using interfacing to trap it didn't seem terribly secure. I decided to make purse feet, using the covered buttons (idea found at Sew Allegorical). I "bolted" the bottom panels in with six 7/8" covered buttons & six strands of embroidery floss.
Lining
I added a 7" interior zipper pocket using the U-Handbag Tutorial and a two-tiered pocket on the other side. I used the large pocket template to make the big pocket and I used my phone to figure out the height for the second-tier. I sewed several compartments in the second tier (for my phone, pens, notepads, etc.). The big pocket is big enough to fit my laptop and/or documents.
I made a quick label with printable fabric.
Pay attention to changing seam allowances. I ended up having to "resew" my lining, because I thought I knew what I was doing at that point.
Since I used quilting weight fabric for the lining, I added medium-weight interfacing on the lining & pocket pieces. It was still a bit floppy at parts, so I think heavier interfacing would have been nice as well.
Sewing Lining into The Bag
Instead of slipstitching the lining in a just a few spots of the bag, I stitched the seam allowances together wherever I could reach.
I had about 1/4" of extra fabric in two of the rounded corners on the top. I just folded it over and kept stitching. It really isn't noticeable. I have a little bit of puckering around the bottom too, but the false bottom covers that.
I didn't turn the bag inside out while sewing the lining to the zipper. I just flipped the parts that I was working on to the outside. On the first side, I tried to get really as close as I could to the zipper teeth and my fingers hurt so bad! The second side I stayed about 1/8" away from the zipper teeth and it was much easier.
What's in My Weekender?
12 Pounds of Stuff: • Laptop • Document Folder with a few patterns • 11x17 Q-Snap Frame • Sewing Kit •
Noodlehead Open Wide Pouch
(medium) with all my charging cords • Drawstring Bag with all my embroidery thread • Sew-loutions Magnetic Box • SLR Camera • A Couple of Books • Vitamins. Despite all that stuff to do, I ended up getting distracted by the having multiple movie channels. :D
I want to make this bag again someday, but probably after I have a machine with higher threshold for thickness. In the future, I would probably try fusible Peltex to save some time. I like the bags I have seen with the handles and a detachable shoulder strap, so I would like to try that as well.
I think a confident beginner can definitely pull this bag off. For perspective: I have been sewing for almost a year now, am totally blog taught, have a really cheap sewing machine and many of the steps on this bag were completely new to me (piping, super heavy interfacing, etc.). Even though my bag has many imperfections, it still looks perfectly fine.
You can totally do this!
I love the feeling of accomplishment it gave me. I feel like I can sew anything now! :)
ETA:
I just got back from a five day trip to Dallas and I am happy to say that The Weekender made the journey in one piece!
---
I'd like to thank
Lori
and
Heidi
for hosting this hop! For more tips, tricks and pictures of some gorgeous Weekenders, you can check out the past stops on the blog hop:
You can link up your own Weekender starting November 16 at Lori H. Designs!
November 19: Prize Drawings Announced
Also Linking up With: