I made my mom a 44"x13" table runner for Mother's Day, because I didn't think I could finish a quilt in time. Well...this took me about as long as making a quilt and thanks to the tiny 1" HST border, had almost as many pieces!
My mom's favorite flower is the tulip, so that is my theme! In my search for tulip patterns, I found this gorgeous potted tulip paper-piecing pattern at
Charise Creates
. I left off the pot because I wanted them in grass, but I just loved her design. For the layout: I own EQ7 (
Thank you Amazon.com credit card points!
), but I was experiencing designing-in-Microsoft-Word levels of frustration, so I ended up using Adobe Photoshop to lay this table runner out, figure out measurements and test out fabrics. I will save my EQ7 learning for another day, when I am not so pressed for time!
The big flower is secured with some very amateur needleturn applique! It was a lot easier than I thought it would be, but I would definitely love to get more practice with this technique, especially on points.
I attempted FMQ loops on this one and I was doing OK on my practice quilt sandwich, but the moment I started quilting the actual project I had trouble with jerky movements and therefore, jerky loops. Maybe a glass of wine would have helped with that! I ended up unpicking all that and went with diagonals.
This project went pretty smoothly, but I always come down with a Mid-Project Crisis, where the I suddenly become convinced that "I have created the ugliest thing in the history of mankind!!!" I wish I could find some way to keep that mini-breakdown from happening each time! I ended up loving it and all the bright colors especially the Ta Dot apple border!
Changes I would make if I did this again:
The yellow tulips fade in to the background a bit, so I would substitute either a darker yellow (like the Juicy Blossoms print) or yellow-orange.
I would have pre-washed my fabrics!
Fabric Used:
Sky:
Lizzy House / Hello Pilgrim / Dusty Blue Stripe
Red Tulips:
Karen Tusinski / Gallery Fiori / Tonel Poppies in Red & Minick & Simpson / Prairie Paisley II / Red Textured Solid
Yellow Tulips:
Riley Blake / Farm Fresh / Haybale in Yellow & Kona Cotton Buttercup
Leaves & Grass:
My Google-Fu has failed me on this one!
HST Border:
Simon and Kabuki / Juicy Blossoms / Dots Yellow & Kate Spain / Terrain / Lichen Bloom
Outer Border:
Michael Miller / Ta Dot / Ta Dot in Apple
Binding:
Karen Tusinski / Gallery Fiori / Dots in Orange
Backing:
Ellen Luckett Baker / Quilt Blocks / Shade Grey Hexagon Dots
Some things I am excited about:
I'm participating in
Beth @ Plum and June's
Let's Get Acquainted Blog hop
! More details at the link! |
Handstitched Class
at
Stitched in Color
. Let's hope this works miracles with my hand stitches, or at least makes them more even! | I have won so much great supplies over the last few months, I am excited to participate in
Sew Mama Sew's
Giveaway Day
this time around!
Something I am not excited about:
Wisdom Tooth Surgery! I am getting all four of my wisdom tooth removed soon and will be on soft foods for a week. I am slightly terrified, because I have never been put under sedation before!
Linking Up With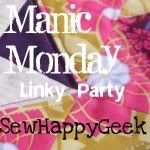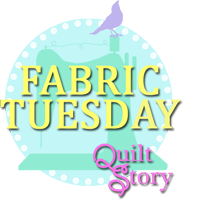 Copyright © From Pixels to Patchwork 2012. All rights reserved.