Here is what has been going on in the last week:
In Progress:
1) Starburst QAL:
I'm completely caught up with the
Starburst QAL
. I am really excited about this quilt! I am making the 76"x76" quilt, so my blocks are going to be 32". I did the smaller blocks in an assembly line, so they came together really fast. The only thing that slowed me down was trimming. Time DOES NOT fly when you are trimming HSTs!
From cut fabric to HSTs, Goose in the Corners and Flying Geese:
I've been wanting to try the
No Waste Flying Geese
for a while now, so I am really glad Melissa chose that technique for this QAL. She wrote a great tutorial and you can find the link on the QAL page. It is magic!!!
I am thinking about changing the color combo of the first block. My original thought was to have a center star to represent each of the colors I had chosen (turquoise, pink, green, light blue). Now that I am looking at a picture, I am not sure I like having 1 warm star and 3 cool stars. I'll make a final decision after I layout the blocks.
2) Fat Quarter Shop Designer Block of the Month 2013
I am caught up with the
Fat Quarter Shop 2012 Designer Mystery Block of the Month
club. This is the eighth block, "Lime Sherbert." It was designed by
Bonnie Olaveson
and
Camille Roskelley
. I messed up on the Flying Geese last week, by not paying attention to the direction of the blue fabric. I fixed that problem...But I realized that in my concern about the Flying Geese, I forgot to pay attention to the direction on the HSTs! It doesn't bother me so much, so it stays!
3) Scrappy TAL
As
mentioned yesterday
, I am still in the quilting phase of the Scrappy TAL.
Finished: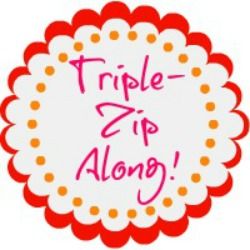 A small finish, but a finish nonetheless! I finished my Triple Zip pouch for the
Triple Zip Along
with Debbie at
A Quilter's Table
. I'll be posting more about that later this week, after I take some pictures of it.
My other Work-In Progresses for the Quarter:
4) Looking Back -
All pieces cut. I am picking this project back up in February
5) Swoon -
All pieces cut. I am picking this project back up in February
6) Flower Girl Quilt -
All pieces cut. I am picking this project back up in March.
Linking up with: